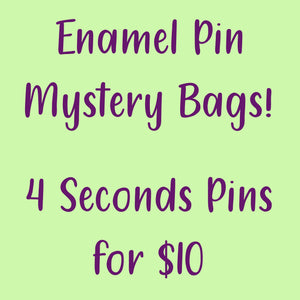 If you love surprises and great deals, then look no further than our enamel pin mystery bags! Each bag contains a random assortment of four Seconds pins, and any of the pins in our shop are fair game. The pins in each bag will be different, but please be aware that if you purchase multiple mystery bags, you may receive duplicates. 
Please note that enamel pins are handmade items and may contain small imperfections. Only those pins graded as Collector pins are guaranteed to be free of any imperfections. You can find more details about my pin grading system here.

All mystery bags are final sale and not eligible for returns.